Returning to Winter!
TipTop Ski Coaching left Les Deux Alpes in what can only be described as a very warm summery autumn. Returning a week later to Winter! On Saturday 27th October TipTop drove back to Les Deux Alpes from Stelvio Glacier. Alex had been running a BASI preparation week there. Snow was forecast so we left early. Aiming to be back before dark, or before the Col de Lautaret was shut! We made it just in time as you can see from the next video!
The great decision to buy our fantastic TipTop VW 9 seater 4motion waggon was certainly appreciated!
TipTop Ski coaching arrived home safely and excited that winter had arrived!
First Snowfall
We had expected just a few cm of snow perhaps 10cm max however what did we wake up to? over 20cm of fresh "white gold".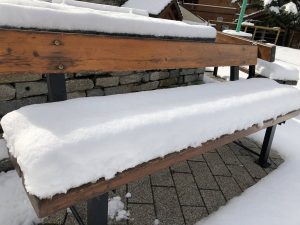 This photo is taken from just outside the tourist office in Les Deux Alpes. The photo shows clearly how much snow has fallen over night!
Our reaction can only be described pure excitement at the arrival of winter! Not long till Alex will be back doing what she loves. Sharing these amazing mountains with you guys and helping you to realise your skiing dreams.
The Second Snowfall
Our early Christmas had only just started as Tuesday morning we woke to yet more fresh snow! This time about 15cm. This is fantastic news for the ski season as it will create a strong base for the snow pack.
Resort Opening
Les Deux Alpes had hoped the snow might enable the resort to open the ski slopes. This has not been the case due to high winds at altitude leaving the ridge lines and tops of the T-bar on the glacier completely bear of snow. It has been decided for reasons of safety that the Jandri Express will only open to walkers and not skiers for this Toussaints holiday. Whilst of course we are disappointed, for TipTop Ski Coaching safely is a top priority and therefore we support the decision.
Today the resort has opening the Venosc bike track and the lift pass is free! However the Jandri has not opened due to bad weather higher up. There is a word of warning for the bike track, its very wet and therefore very slippy – be careful out there particularly on the wooden structures.
Tomorrow Venosc will open to Bikers and the Jandri Express and funicular to walkers. The Venosc lift pass will be free of charge. The Jandri walkers pass is 23E and this includes the use of the funicular.
Winter is nearly here
For those of you like myself who are thinking of getting out on skis right away please be careful as below this beautiful white mountain there is currently no base and the avalanche risk has been put at 3/5. The lack of base is also a great risk to your lovely ski bases – the rocks might be hidden but they are certainly not "covered" and are ready to "get ya"! There are places in the alps that are now open for skiing such as Verbier and Tignes although the slopes open are very limited.
After this word of warning, I myself am itching to get my skis back on! …. I will be sensible for the time being as I have just had 4 fantastic days skiing on Stelvio glacier.
Watch our video snow report here.
keep up to date with the conditions in Les Deux Alpes and offers we have on ski lessons over the winter please join our mailing list here and/or like our facebook page.
TipTop Ski Coaching still have some availability for early season ski lessons, email Alex for more information.